Enter for a Chance to WIN!
Emails used to Contact Winners only… We Do NOT spam, sell, or disclose email addresses.
Mobile Users click menu bars below in the gray contest header to get started.
Please read Rules & Prizes first, just below (or to the right of) Upload Photo.
All photos must include a Dog with a real Bone.
Select Upload Photo, enter your name and email address, add title to your photo, add description if you would like some additional details, select your image, click on check boxes, and then tap Submit Photo.
Only 1 entry is allowed to be submitted per family/household/ip address.
Username and Password will be emailed to you if you wish to log back in to delete or resubmit a new photo. If you previously entered a different Contest, you may need to login first. Choose forgot password to reset in the event you forget. Login after password reset and upload photo. Maximum of 1 photo allowed in this Contest.
You may optionally use Social Login below, then Select Upload Photos and continue.
No photo has been submitted for the contest. Be the first!
Rules & Prizes
How the Promotion Works
General Rules and Guidelines for Registered Users who are 18 years of age or older. (Short Version)
Take a photo with your dog and a bone (preferably from Christopher's Meat Market). Keep photos fun and interesting. Online Stock or Photoshop images might not be approved for use in the contest. We want to see your real dog with a bone. Keep photos child friendly please. No fake or Milk Bones please, just simply a real bone.
Upload your photo & register if you have not already done so.
Share your photo with friends and family, and then let them know when voting begins so they can vote for your favorite Dog & Bone photo.
Watch to see if your photo appears in one of the Top 10 positions. This is the list where the available 3 Prizes will be determined from. Good luck, and we hope you can be a Prize Winner.
Be sure to fully read the entire rules and regulations as well as Terms & Conditions of Use and Privacy Policies to ensure you comply with all provisions of the Dog & Bone Contest.
Entries begin June 1st, 2020
Entry period ends on June 20th, 2020
Voting begins on June 21st, 2020
Voting period ends on June 27th, 2020
Contest Prizes
The following Prizes have been made available by Christopher's Meat Market.
All Gift Certificate Prizes are valid for redemption at Christopher's Meat Market only!
Grand Prize - $100 Cash
Second Prize - $75.00 Gift Certificate
Third Prize - $50.00 Gift Certificate
Complete Guidelines for our Dog & Bone Photo Contest
Our Dog & Bone Photo Contest is meant for entertainment purposes only, with a chance to win Cash or Gift Certificate Prizes for those who register and enter the Contest.
By uploading a photo of your dog along with a bone (preferably from Christopher's Meat Market), as well as successful registration and photo approval, you will have a chance to win one of several Prizes. Promotion is open to anyone over 18 years of age. No fake or Milk Bones please, just simply a real bone.

Christopher's Meat Market and/or authorized representatives will make the sole determining decision as to whether or not a photo is suitable to be represented in this Dog & Bone Photo Contest. Please keep this Contest children friendly!
The Contest will begin on June 1st, 2020 and will run thru June 27th, 2020.
Entries will be accepted beginning June 1st, 2020 and the entry period will end on June 20th, 2020. Users will be allowed 1 entry, and will be able to edit their photo entry if they so desire, but once approved, edits will be approved at the sole discretion of Contest Moderator.

Only one dog (photo) may be entered into the Contest.
Please remember that this Contest is for entertainment purposes, and all Prize Winners will be decided upon by the general public via the voting system.
Voting will begin immediately on June 21st, 2020, and voting will be allowed thru June 27th, 2020. Users may vote for their own photos, as well as any other photos they find that they like. Anyone may vote, whether or not they have registered. Registration is not required to vote. You may only vote once for any photo, but you may vote for as many photos as you like.
To win a Prize, your photo should appear as one of the first three photos in the Top 10 photos section as of the end of the Contest voting period which is June 27th, 2020. If your photo is not one of the first three photos in the Top 10, then most likely you will not be a Prize Winner.

The general public will decide who the Prize Winners are based on likes for each photo. The photo in the number 1 position with the most likes will win the Grand Prize. The photo in the number 2 position will win the Second Prize. Any and all other Prizes as available will continue to count down from the number 1 position based on number of likes. Available Prizes are listed within these rules.

Should several photos in the Top 10 have the same number of likes, the winning positions will then be determined by the highest number of views for each of those competing photos. The Top 10 list does rotate photos in a random fashion for all photos with the same number of likes for entertainment display purposes, so winners will be decided in descending order by total views for their photo entry. This is necessary because refreshing the page would change order of the Top 10 once again for those with identical number of likes.

An example of this is as follows, and would continue same principle for winners if more prizes would be available. Remember if you refresh the Top 10 page, the photo orders will change for all photos with the same number of likes, which is why the views count will be secondary winning criteria.

Position 1. - 5 likes & 15 views - Second Prize Winner

Position 2. - 5 likes & 30 views - Grand Prize Winner

Position 3. - 3 likes & 10 views - Fourth Prize Winner

Position 4. - 3 likes & 25 views. - Third Prize Winner

We will only allow one Prize per registered family/user/IP address. There are a maximum of 100 allowed entries, so do not wait too long to enter and get left out.
Winners will be notified via the email used when uploading a photo and registering for the Contest. Please check your email carefully when registering. If we cannot reach you due to an invalid email address in your user account, or undelivered email for any reason, the next runner up will be chosen as the winner. Prizes will be in the form of Cash, and/or a Gift Certificate valid and redeemable only at Christopher's Meat Market.
This promotion will follow and adhere to all rules and/or regulations as provided on all pages available on this contest website.

Should you experience any issues with this website, we ask that you first try using a different mobile or desktop computing device to attempt to resolve your issues.
If that does not seem to be helping, please ask someone else for help, such as a family member or friend, perhaps your favorite web guru or technician.
We will do our best to help anyone experiencing issues regarding the Contest, in as timely a manner as possible. We cannot however, alter Contest results for anyone who we were unable to help prior to the Contest closing date. For this reason, please do not wait until the last few days to make your Contest Entries. Due to any issues beyond or outside of our control, the entry period and/or voting period may be terminated early, and any/all entries submitted as of that time will be used to determine the winner(s).
Should you find or feel there is a problem with the Contest Website or need help, please email us at: wmaster@farmersmarketofwyomissing.com or Click Here
We apologize in advance should anything go wrong; however, this is a Dog & Bone Photo Contest for entertainment purposes only, with a chance to win Prizes for those who register and enter the Contest.
Although this is mainly an online Contest, anyone who wishes to enter and has no online access may still participate. You must choose and legibly write down a name for your Dog as well as any description you wish to appear in the submission, take a physical printed photo showing your Dog with the Bone purchased at Christopher's Meat Market, and send both of these along with your name, email address/phone number or other method of contact, and a self-addressed stamped envelope for return of your photo if desired to:
Dog & Bone Photo Contest
c/o Noble Group USA
PO Box 6884
Wyomissing, PA 19610
All physical entries must be received by or before June 19th to qualify for entry into the Dog & Bone Photo Contest - No exceptions due to late or misdirected mail.. We need time to process your entry, so we need one additional day prior to the end of the entry period.

Thank you for your interest and we hope you participate in our Dog & Bone Photo Contest provided by Christopher's Meat Market located at PA Dutch Farmers Market of Wyomissing.
Check out a few of our Products
Check out our selection of Dog Treats & Beef Marrow Bones in 3 sizes which sell for $1.99/lb.
Smoked Beef Marrow Bones sell for $2.99/lb.
Smoked Pork Ears sell for $2.00 each.
Rib Bones, Knuckle Bones, "Dino" Bones, plus raw Pet Food as well as a Premium Dry Dog Food are all items we keep in stock.
Year round we sell a variety of high quality USDA Choice Steaks & Roasts including but not limited to Ribeye, Delmonico, NY Strip, Porterhouse and Tomahawk Steaks.
We also offer Frozen Steaks for sale at 15% off the regular price.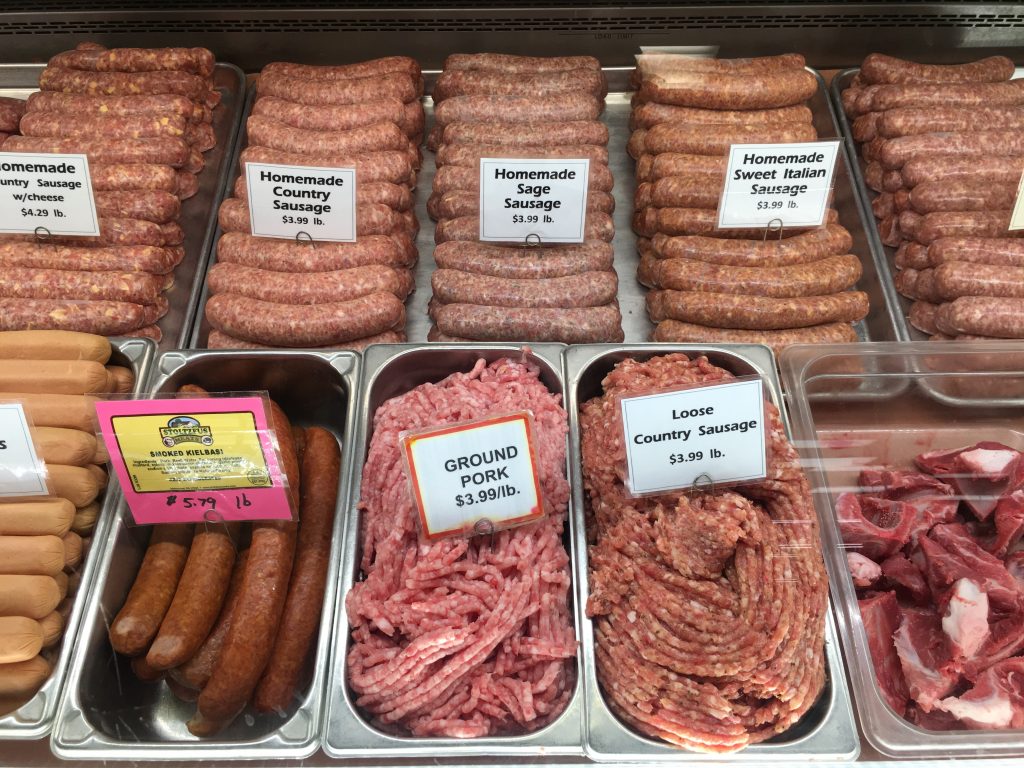 All of our Homemade Sausages sell for $3.99/lb. These are made in house using high quality seasonings, and natural hog casings.
Currently we offer 11 varieties such as Country w/cheese, Pepper & Onion & Sweet Italian.
Want them spicy? Try our Firecracker Sausage or our Hot Italian Sausage.
Fresh Ground Chuck 80/20. See store for current pricing.
X-lean 90/10. See store for current pricing.
Fresh Homemade Beef Patties 80/20. See store for current pricing.
Sirloin Patties 90/10. See store for current pricing.
---
Additional Contest Policies/Content: